Bio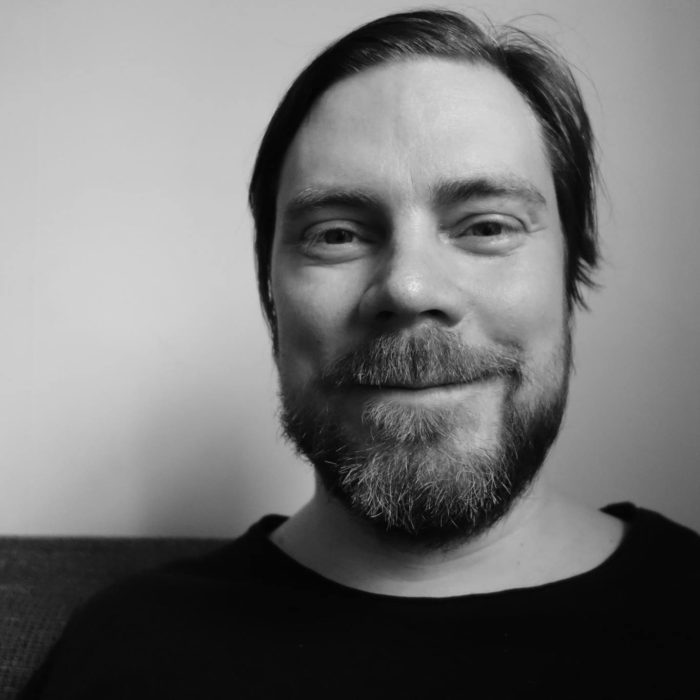 Jukka Rintamäki is an independent composer and musician, whose work includes music for film, dance, video games and art. He is also an accomplished producer. Born in Vasa, Finland in 1974, he moved to Gothenburg, Sweden at the age of 20 to study musicology and philosophy. Today, Rintamäki lives and works in Stockholm, where he has been based since 2006. Rintamäki is a member and songwriter in Silverbullit, formed in 1995. The group has released three albums and toured Europe and the United States. The band's live performances and albums continue to receive wide acclaim from audiences and critics alike.
In 2004, Rintamäki started composing music for film, contemporary dance and art, producing and doing remixes for bands. Feature films for which he has written original score include the award-winning movie Kid Svensk, directed by Nanna Huolman, shown at festivals in Scandinavia and Europe, including the Karlovary Film Festival and Gothenburg International Film Festival in 2008. The latest film featuring Rintamäki's music was The Corridor (Swedish title 'Isolerad'), a critically acclaimed Swedish thriller from 2010 shown at a number of film festivals around the world, including festival premiers at Plan D'Anger, Fantastic Fest Austin and the Brussels Film Festival.
Rintamäki has also collaborated with a number of choreographers. He composed music for works by choreographer Helena Franzén that were performed at Dansens Hus, Stockholm in 2009 and at Moderna Dansteater, Stockholm in 2011. He also composed music for performances at Joyce Soho, New York in 2009 and wrote music in collaboration with Silverbullit for performances at the Royal Danish Opera in 2005. His repertoire of compositions includes music for three works by choreographer Kenneth Kvarnström, performed at Göteborgsoperan, Norrlandsoperan and the Helsinki City Theater, later touring worldwide, including performances at Jacob's Pillow, Massachusetts in 2010. He also composed music for choreographer Ori Flomin's work All We Are, performed at DTW (nowdays New York Live Arts), New York in 2010.
2011-2012 Rintamäki together with composer Johan Skugge scored the music for the game Battlefield 3. And in 2013 the duo also did the score for the follow up game Battlefield 4.
2013 – 2014 included the release of the soundtrack for the game Battlefield 4 that Rintamäki and fellow composer Johan Skugge wrote the music for. The two of them are also released a single – Magnificent Arp – on the record label BLVVD in november with their project No Science. Rintamäki is also composing music for 2 dance peformances premiere 2014 and doing music for a documentary. 2014 also saw the release of the instrumental album The Lost Fast One released on the label Kning Disk.
2015 includes composing music for the dance performance Tremolo for Uppsala Konsert och Kongress and 92Y Harkness Dance Center in New York. The release of the album Lucky Resident with band No Science. The release of a fourth soundtrack album for the Battlefield game series. And composing music for the dance performance Out of Reach at Stockholms Stadsteater (Stockholm City Theater). Another instrumental album released on Kning Disk was released: Aspirin – An Introspective Compilation.
2016 Included music for several theater and contemporary dance performances. One of them was the performance On the Road by New York based choreographer Zvi Gotheiner. The performance played as a part of the Next Wave Festival at BAM (Brooklyn Academy of Music) in november 2016.
2017 Rintamäki released the album Harpsi Shimmer with his musical project The Northern East on the label Nordmark Records. He is also composing and recording music for theater plays, a video game and contemporary dance performances. He also composed the music together with fellow composer Per Störby Jutbring for the critcally acclaimed documentary KIM – The Bald Primadonna, about swedish legendary actor Kim Anderzon. The movie was the opening movie for the Tempo Documentary Festival in Stockholm 2017.
2018 Rintamäki is in the studio composing music for an new instrumental album that will be released later this year. He also composed the score for an P3 Serie radio play for Sveriges Radio (Swedish National Radio) called Tunnlarna.